---
The second of our quarterly state tourism website traffic analysis for the 50 official state tourism offices was published today. The analysis was conducted by the TwoSix Digital team to benchmark and rank traffic to each tourism organization's website. The analysis graded each state by total traffic, average monthly visits, share of mobile vs. desktop and engagement factors like pages per visit, average visit duration and bounce rate. This month we also tracked inbound and outbound links, which gives us some perspective where the visitors are coming from and where they are going after interacting with state tourism websites.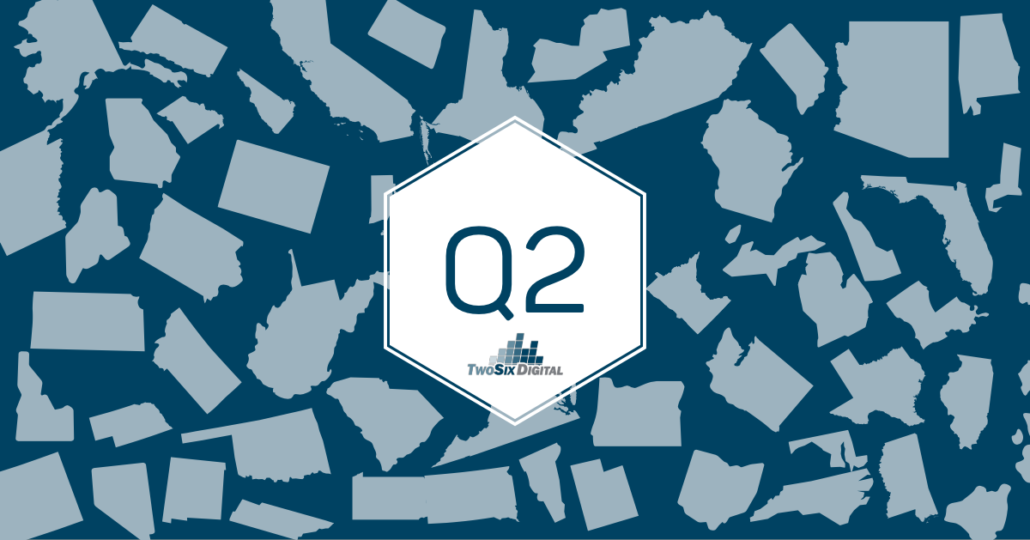 The indicator that the tourism promotion season is in high gear was very clear with 72% of the states increasing their overall traffic in Q2 over Q1. Oklahoma took over the number spot with 2.8 million total website visits. The top five stayed consistent, with one change – Oklahoma replaced Hawaii among the leaders. Florida held the second spot for the second consecutive quarter, followed by California, Michigan and Colorado.
---
The average number of visits to all state tourism website was 834,906 in the Q2, a 7% increase over Q1. Mobile traffic stayed consistent at 75%, just two percentage points down from 77% in Q1. The state of Alaska moved up to the number one spot in website engagement, from number three in Q1. They also lead all fifty state tourism offices in pages per visit at 3.17 and time on-site with a duration of 2:49.
The other states in the top five of overall website engagement were Delaware at number two, followed by Vermont, West Virginia and Connecticut rounded out the fifth spot. This ranking was calculated by using a weighted scale based on the number of page visits, time on site and bounce rate. We then calculated the overall engagement rate on a scale from 1-10 and ranked the states from 1 to 50.
One addition to the Q2 rankings includes the top incoming and outgoing websites, which gives us some perspective on the overall traveler's content interests and website usage. The top incoming site was Google. Of the 50 states, 74% of them had incoming traffic from Google. It also looks like many state tourism offices are conducting connected TV promotions, as Hulu was second in referral traffic – sending 22% of the total inbound traffic to state tourism sites. TripAdvisor rounded out the top three with an 8% share of incoming clicks.
The top outgoing sites were much more balanced with Facebook leading the downstream traffic at 32% followed by the National Park Service at 30%. Google also acquired 26% of the outgoing traffic – which tells us more than a quarter of the visitors to state tourism websites did not find what they were looking for or needed more specific information following their initial query. TripAdvisor closed out the top four with an 8% share of outgoing traffic.
---
One very interesting note, Alaska was the only state with all of their top 10 outgoing traffic links reaching local tour groups and tourism industry partner websites. A great achievement for the marketers of the 49thstate!
All of the data was gathered via SimilarWeb, a third-party traffic and website analysis application. SimilarWeb's innovative marketing intelligence allows users to gain insight into any website's statistics through a global panel of consumers that work across a range of devices and websites.
We would like to emphasize that we do realize these numbers will not be "apples to apples" in terms of overall website visits recorded through Google Analytics or other tracking software installed on an individual website. But, by collectively recording the aggregate data for all 50 states from an identical source utilizing the same methodologies, we will be able to draw a very accurate analysis of the traffic positioning.
---
https://twosixdigital.com/wp-content/uploads/2019/08/STWTAQ2_Twitter.png
629
1200
2sixdigitaltwo6
https://twosixdigital.com/wp-content/uploads/2019/01/TwoSixDigital_logo_Stacked_RGB-300x142-300x142.jpg
2sixdigitaltwo6
2019-08-06 11:48:20
2019-08-06 14:02:50
State Tourism Website Traffic Analysis | Q2 2019