---
Your e-newsletter is a key component of travel planning for new or returning visitors. Whether it's weekly, monthly, or quarterly, it is important to make sure that you are creating valuable content for your subscribers that they'll want to open again. Check out these 10 essential components of a tourism e-newsletter to make your next newsletter a must-read!
1. Eye-Catching Subject Line & Preview Text
Subject lines are one of the most important aspects of any e-newsletter delivery. Recent studies conducted at TwoSix Digital have found that most users are motivated to open / not open a tourism e-newsletter based on the subject line. Utilize emojis, powerful words and calls to action to encourage your subscribers to open. Also be sure to include a short line of preview text to give readers a preview of what they can expect in your newsletter.


---
2. Seasonal Header with Logo
Help convey a sense of place and inspire users to visit throughout the entire year by adding a seasonal header to your newsletter. This will show your users a greater understanding of different activities and events that they can experience. Be sure to also include your logo, brand colors, and hashtag!


---
3. Social Media Icons (follow & share)
Include opportunities to gain following on your social profiles both at the top and the bottom of your newsletter for full coverage. Your newsletter is prime real estate to gain more following on your accounts. Be sure to also include share tools so users can share the information with their travel buddies!


---
4. Call to Action Buttons Throughout
Add key opportunities for your destination throughout the newsletter like your visitor's guide, dining passports and unique offerings as call-to-action buttons. Studies show that hotel and meal deals typically perform well in this area and are great ways to inspire and encourage travel. Get your users to take action!

Check out this blog if you're having trouble coming up with CTAs:
---
5. Images
No one wants to read an e-newsletter (especially from a destination) that is all text. Improve the overall appearance and readability of the newsletter by adding seasonal images. To go one step further, even add links to the images to gain more website traffic!
---
6. Short Pieces of Text
The key to this component is 'short' — no one wants to read a huge paragraph, and this gives you a great opportunity to drive traffic to other sources. Keep it short and sweet and get your users to finish reading by going to your blog. Be sure to include necessary links to direct your readers to the right spot to get more information.
---
7. Blogs & Trip Itineraries
Your newsletter is a key part of the trip planning process, so including blogs, top 10 lists, and trip itineraries as pieces of content is important. Don't forget to include clickable buttons and / or links back to more trip itineraries so they can continue their trip planning on your website.
Below is a great example of how to add an image and text that accompanies your blog or trip itinerary: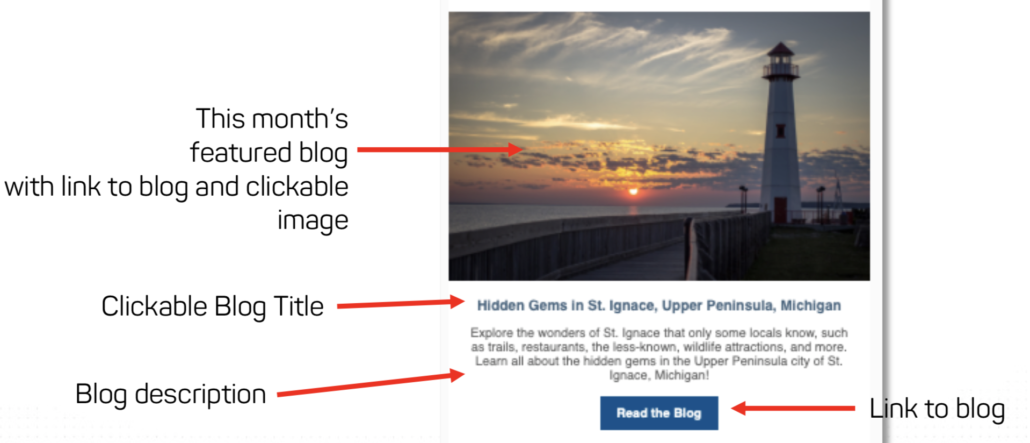 8. Upcoming Events
---
Especially if you are sending your newsletter on a quarterly basis, it is important to include upcoming major events that could potentially be destination drivers. Include an image of the upcoming event as well as clickable links for them to learn more about the events that your destination has to offer.

9. Social Media Feature
Social media integration is key to your newsletter as it is an easy way to gain awareness of your presence on social media and add another touchpoint with your customers. Include your most-liked photo on Instagram or a great user-generated travel photo and include your hashtag to encourage users to post their photos when they visit.
---
10. Unsubscribe Options
As much as we don't want your subscribers to leave you, it is your responsibility to include an unsubscribe option at the bottom of your newsletter. Most email marketing platforms automatically include this option for you, but it is always good to make sure.
---
Including these 10 components in your newsletter will not only inspire your visitors to travel to your destination, but it will also keep visitors, potential visitors, and local customers informed of all of the latest and greatest things happening in your neck of the woods. For more ways to use digital marketing to inspire travel and grow your destination marketing organization, be sure to click below to subscribe to our e-newsletter and follow us across social media.
Continue your learning with these TwoSix Digital Resources:
https://twosixdigital.com/wp-content/uploads/2019/05/f8c15525-2c0e-4026-a717-7a84a662b7bd.jpg
2414
2414
2sixdigitaltwo6
https://twosixdigital.com/wp-content/uploads/2019/01/TwoSixDigital_logo_Stacked_RGB-300x142-300x142.jpg
2sixdigitaltwo6
2019-05-23 10:56:36
2019-05-23 11:11:13
10 Essential Components of a Tourism E-Newsletter