---
Just like you can use Facebook's free tool to preview your links, you can use Twitter's Card Validator to preview your how a link will look on Twitter. What's better than previewing links? Customizing them – and that's exactly what Twitter cards let you do. Check out why Twitter Cards are going to be your best friend:
---
What are Twitter Cards?
Twitter Cards are the media-rich previews on the platform. There are Summary Cards (link previews) and App Cards (for install mobile apps). Summary Cards are the most useful for tourism marketing, as they're designed to give users a sneak peek at the content before clicking through to a website. See the example below!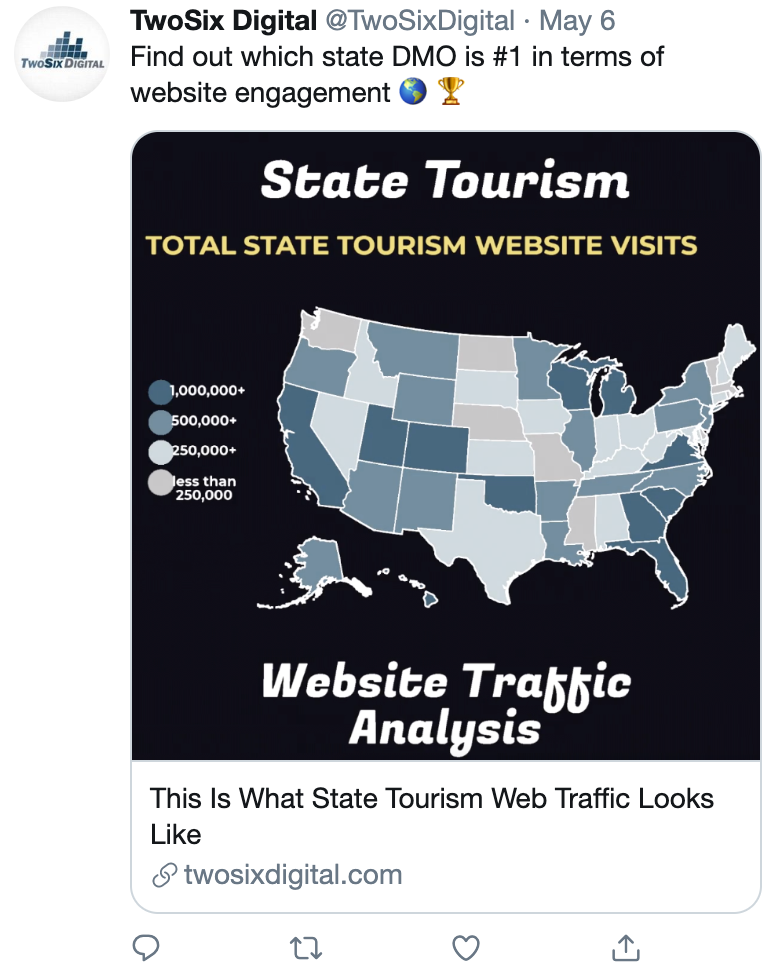 ---
Why Should I Use Them?
By employing Twitter Cards, you customize the media and headline used in a link Tweet. Your Tweets can easily become incredibly engaging, and the platform even allows you to add videos to your links! But wait – there's more. You can also make multiple versions of the same link. What better way to bump up your frequency and test out different headlines?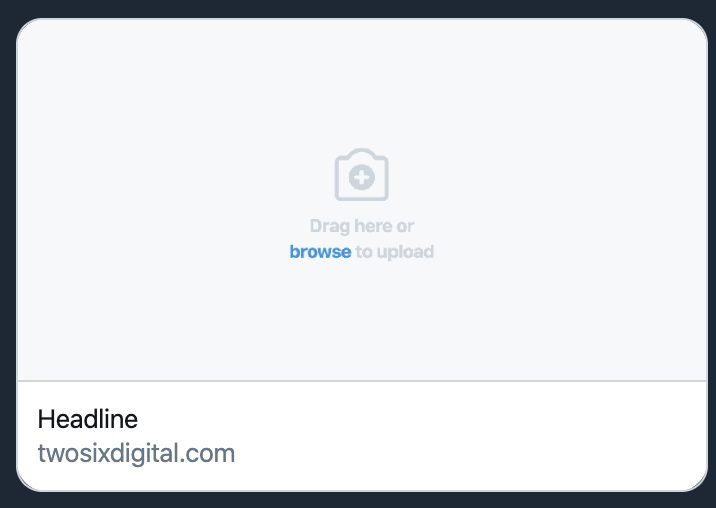 ---
The 2 Ways
The Easy Way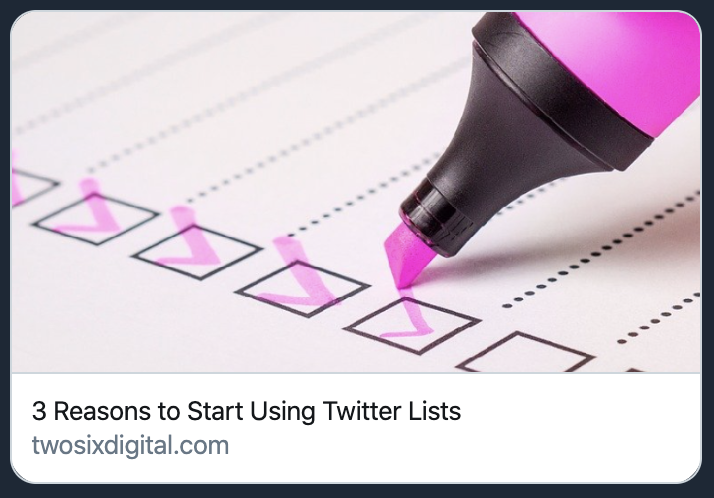 There are two ways to make Twitter Cards. Just like we showed you in How to Natively Schedule Organic Posts on Twitter, for the easy way, you'll need to sign-up for Twitter Business first. Once you've done this, check out How to Make Your Own.
The Hard Way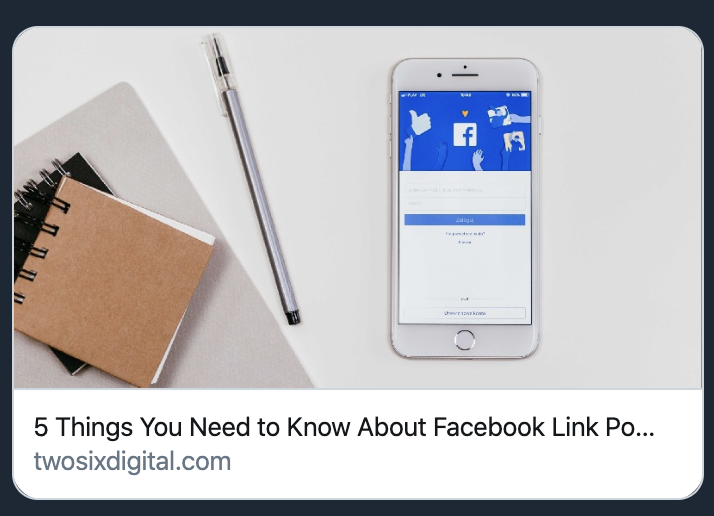 So why are we talking about the hard way? Similar to what we discussed in our blog about Facebook Links, you can add Meta Tags to the code of a webpage in order to alter what appears when users share your link on Twitter. 
The easy way only applies when you specifically add a card to a Tweet, but as most users simply Retweet or Quote content they like rather than copying & pasting a link into a whole new Tweet, this will rarely be troublesome. We'll let you decide which is better.
---
How to Make Your Own
Making Twitter Cards the easy way is incredibly simple. Just follow these steps:
Go to "More" on Twitter on Desktop
Go to Twitter Ads
Click "Creatives" and select "Cards"
Then, click "Create Card" (You'll have the option to make a 'website card' or a video website card'
Then, add the media, a headline, and a website URL *Don't forget your UTM Codes*
Give your card a name, preview if you'd like, and submit!
You can then hover over a Twitter card or follow our directions on How to Natively Schedule Tweets!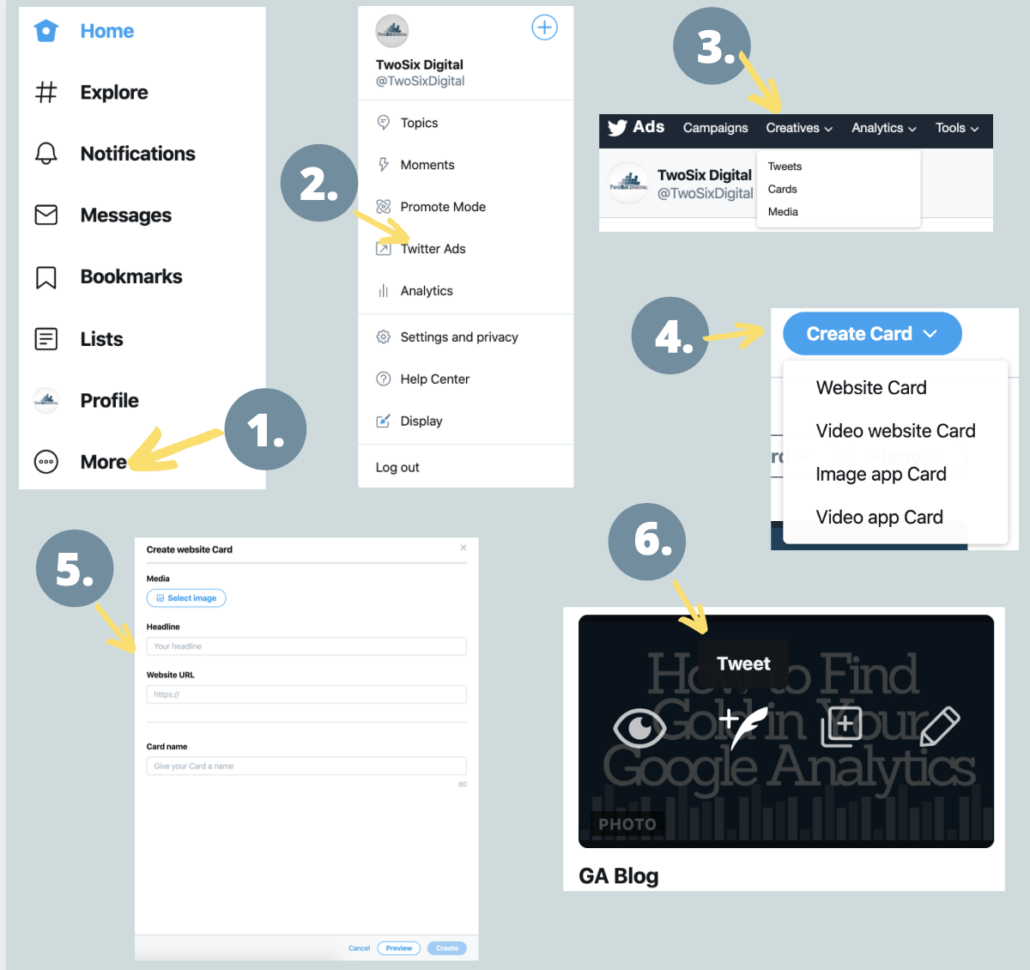 ---
Twitter Cards have the potential to completely change the way you treat Twitter, so we highly recommend trying them out. Feel free to reach out to us if you have any questions on social media marketing or any other topic, and subscribe to our newsletter to get more helpful tips!
https://twosixdigital.com/wp-content/uploads/2019/12/pablo-67.png
1024
1024
2sixdigitaltwo6
https://twosixdigital.com/wp-content/uploads/2019/01/TwoSixDigital_logo_Stacked_RGB-300x142-300x142.jpg
2sixdigitaltwo6
2019-12-12 10:04:18
2020-09-21 14:04:07
Why Twitter Cards Are Going to Be Your Best Friend