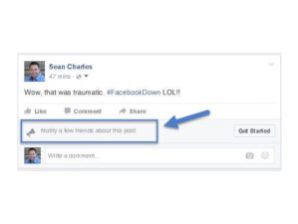 Facebook Notify Button, Video Comments!
Facebook Notify Button Clues in Friends Instead of Tagging Them
A new Facebook Notify button could potentially replace the numerous tagged comments people leave when they want a friend to see a post. The Facebook Notify button is being tested out with a limited audience right now, but would basically be a button above the comments that would let users click and enter the name of a friend they think might find the content interesting. That person would then receive a notification about the content.
Facebook told SocialTimes it wanted a more discreet way of letting people alert others to good content, so stay tuned.
Comment with Videos!

Facebook comments are getting an upgrade with news that users will be able to upload a video to leave as a comment on posts. Leaving a video comment is essentially done the same way you might leave a photo comment. Just click on the camera icon next to the comment field where you type to comment and select to upload a video. Give it a try and see if you can leave a video comment! If you can't, it will probably become available to your account shortly.
The move seems natural given the recent news Snapchat had overtaken Facebook in daily views and with the rise in internet video consumption and predictions.
Pay through Facebook Pages Coming soon?
Facebook users may soon be able to pay directly through a Facebook page to purchase an item from a business. TechCrunch is reporting that Facebook is testing the feature out in Southeast Asia right now and allowing users to buy an item listed on a Facebook page without ever leaving the social network. While details are scarce right now, it could be big news if the company decides to pursue this route.
https://twosixdigital.com/wp-content/uploads/2016/06/NotifyAFewFriendsAboutThisPost-300x225.jpg
224
298
2sixdigitaltwo6
https://twosixdigital.com/wp-content/uploads/2019/01/TwoSixDigital_logo_Stacked_RGB-300x142-300x142.jpg
2sixdigitaltwo6
2016-06-10 13:57:32
2016-12-13 10:48:35
Facebook Notify Button, Video Comments!