Happy New Year! There is no better way to start out the new year than learning how your organization can make the most out of the coming months. Check out our list of 19 ways the tourism industry can make the most out of 2019!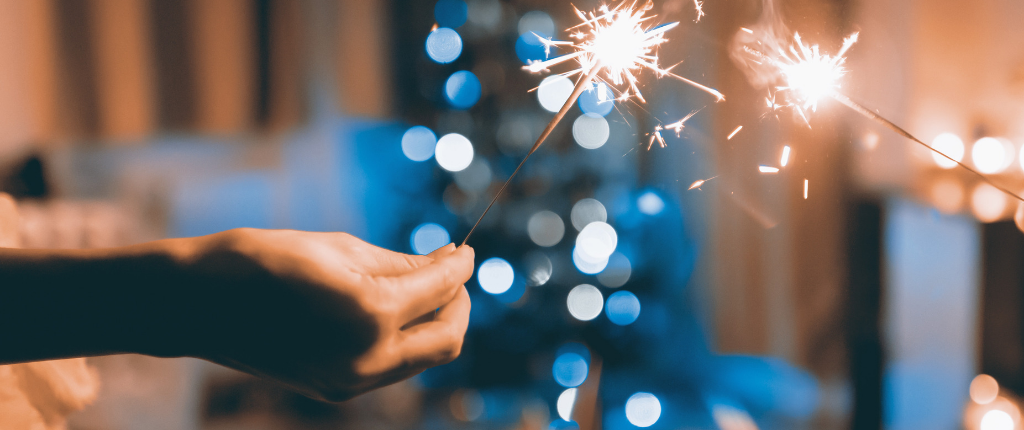 ---
Set yourself up for success
There's no better way to start out the year than by setting yourself up to be successful. There are a few simple ways to help you start this process. First, if you haven't already done so, a Facebook Pixel on your website. It's incredibly important– especially if you plan to run a Facebook ad campaign (See #5 for more details). Next, it is important that you sign up for Business Manager, Ad Manager and add Tag Manager to your website. Click one of the links below for helpful guides on what each tool does and how to install them:
---
2. Develop Consumable Travel Products
The key term in this description is "consumable", meaning your visitors can physically pick up, access or view them. The aim of these products is to improve visitors' overall experience with easily accessible tools or resources. A "consumable" can be something as simple as a coupon book, a hotel deals landing page, a trip itinerary, or even something more involvedlike a Beer Tour Guide or Specific Attraction Packages. Check out these examples:
Experience Burnsville Coupon Book
Discover Kalamazoo Brewery Map
Northern Kentucky's Bourbon Itineraries
---
3. Optimize your social media post
Developing your posts to create optimal engagement is key. Thus, it's important to take advantage of all of the different posting options across each platform. Use emojis, location tags and feelings on Facebook (if you're feeling ambitious you can use the free targeting tools!) On Instagram and Twitter, use location tags, hashtags, and emojis to spice up your posts.
---
4. Strategically Use Videos
Online video content is creating high levels of consumer engagement on multiple social networks, but no place is this more important than Facebook. The engagement levels not only help identify your high value pieces of content, they also provide insight on consumer personas that can help narrow future campaign ad flight targeting.
For example, based on the time the consumers engaged in the content (anywhere between 25% to 95% time spent viewing) – you have the ability to either retarget that specific audience or build a lookalike audience of consumers with similar personas in future ad sets. This a great way to create new audiences that have shown a level of interest in your product based on prior actions – all resulting in higher engagement on future promotional ads.
---
5. Run a Digital Ad Campaign
If you haven't done this for your organization yet, do it in 2019! This is a great way to generate brand awareness and extend the reach of your messaging. By promoting a product that is niche based or seasonally focused, you can inspire targeted consumers to visit in the future. If running an ad campaign sounds like an overwhelming experience, contact us for help!
For more help, check out this blog from Hubspot for examples of digital ad campaigns and how to build your own!
---
6. Take time to review your Google Analytics
Google Analytics can be very daunting at first glance. Even though there are many layers, terms, and things to learn, its important to educate yourself. Google Analytics is an incredibly powerful marketing tool that can help you learn more about your destination and its future visitors. Make it a goal in 2019 to take a class and learn more about the power of Google Analytics.
---
7. Utilize re-targeting tool opportunities
Use a re-targeting audience periodically to reinforce your message to potential visitors.
There are many ways to accomplish this with general website visits, but one specific opportunity is to build an audience based on visits to pages with specific content. For example, if visitors are interacting with your "Trails" content pages, you can segment those users and send them periodic trails related promotions throughout the year featuring different themes in multiple seasons. This is a great way to identify an interest and provide multiple opportunities to inspire the consumer to possibly participate throughout the year,
---
8. Scheduling tools
Believe it or not, a lot of community managers use the power of automation to keep their social media feeds alive. Make sure that you're using one of the many tools out there to help build out your content calendar, while also taking away common stressors associated with community management. Here are some great scheduling platforms for you to try out:
---
9. Don't forget about organic search strategies
Even though there are so many new paid advertising methods, it's essential to remember the power of organic search for your website. This can be simple things like keyword optimization, mobile optimization, and making sure your blog content is uptodate to accurately reflect your product. Check out this helpful article for 7 top strategies for improving your site for organic search.
---
10. Learn how to market your major events and experiences
Events and experiences are major destination drivers, so you want to make sure that you're consistently marketing these events. Take advantage of the Facebook local app, integrate event features into your email marketing strategy, your content calendar and your blog posts. Plus, make sure that you update your events page with updated 2019 dates and times as soon as they are released. For more information on marketing your major 2019 events, check out this blog post.
---
11. White space is your friend
Let's be honestno one wants to read a novel when they open up any of social platforms. , white space is your friend both on social media and on your website. Make things quick, concise, and to the point. Just because there are more words doesn't mean that it's a better post. Conversely, it actually makes it less appealing to the user in most cases. Here's a great example:
---
12. Educate yourself on digital marketing practices
Were there digital marketing practices in 2018 that you never fully got the hang of? Then one of the best things you can do in 2019 is to learn more about them ASAP! Read up on the latest trends, take a FREE class (yes, they existry some of these), or even YouTube your questions. If there's still something you need help accomplishing, be sure to reach out to us!
---
13. Repurpose content
Never underestimate the power of repurposing content piece. After you spend a significant amount of time developing the piece, it can be discouraging to only have it posted once on your feed. Content that can be repurposed is termed "Evergreen" and multiple brands use this strateg. So, when you create your next new content piece, be sure to create it in a way so you can post it again at a later date.
---
14. Put your hashtag everywhere
Creating brand awareness is crucial for any organization. And, a common tactic to generate hashtag awareness is to simply put your hashtag in as many places as possible – more than just in your Tweets and Instagram posts. Add it to your Instagram bio, Facebook cover photo, coffee mugs, email signatures, coasters, email newsletter headers, billboards, and more.
---
15. Re-define your email marketing strategy
2019 will not be the end of email marketing. And, we'd argue that it's important as ever. Ask yourself: how are you going to add value to your visitors through the use of email marketing? We encourage you to focus on your acquisition and motivate potential visitors to sign up for your newsletter in multiple ways. It's more than a Tweet saying "sign up for our e-newsletter." Check out this blog that helps dissect some of the biggest challenges that you may have encountered with email marketing.
---
16. Get creative + hit the streets
Marketing your destination from behind your phone or computer just isn't going to cut it. Take time out of your week to go see what is happening in your town, take photos, and educate yourself on potential visitor experiences. Put yourself in a visitor's shoes and see what you can discover about your destination. While user-generated content is awesome, it is important to have updated content of your own to use to fill your content calendar.
---
17. Understand how your users navigate your website
It is important to understand how your users are navigating through your website content. Understanding their behavior will not only provide necessary insight on the positioning of future content, but it will also help tailor your messaging to their actions.
Two great tools for revealing online behavior of consumers are Hotjar and the Google Analytics Chrome Extension. Hotjar provides insight through heat maps, screen recordings and conversion funnels to show what content users are gravitating to on your website.
The Google Analytics Chrome Extension provides you an opportunity to see what links or pages consumers have visited based on small percentage buttons all driven by Google Analytics data.
Check out the example below: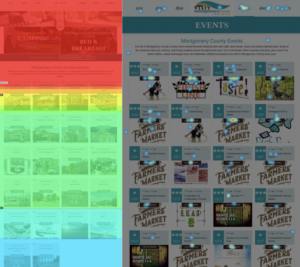 ---
18. Use free content tools
Everybody loves free stuff, right? As digital marketers, it seems like we always have to pay for subscriptions for creative services, or even paying someone else to do it for us. However, this is certainly not the only option! There are so many awesome, free content tools out there that will help you get creative with your content. Check out this blog for a list of some of our favorites that we use on a regular basis.
---
19. Identify / amplify your differentials
What makes your destination or product unique? Whatever the answer to this question is, this is what you should be marketing the most. The best things about your destination are what make it unique and it's vital that you don't stray too far away from the best parts of your destination. For example: if you are known for the wide variety of ski and snowboarding options, then post about them! They're what make your destination special and should be amplified through your marketing.
---
Whether it's redefining your email marketing strategy or learning the basics of Google Analytics, we encourage you to take a leap of faith and set yourself up for ultimate success in 2019. Follow us on Facebook, Twitter, and Instagram to stay updated on all of the upcoming tourism marketing trends in 2019.
---
https://twosixdigital.com/wp-content/uploads/2019/01/2019-written-in-lights_4460x4460.jpg
2974
4460
2sixdigitaltwo6
https://twosixdigital.com/wp-content/uploads/2019/01/TwoSixDigital_logo_Stacked_RGB-300x142-300x142.jpg
2sixdigitaltwo6
2019-01-03 06:00:07
2019-05-16 12:21:31
19 Ways the Tourism Industry Can Make the Most out of 2019