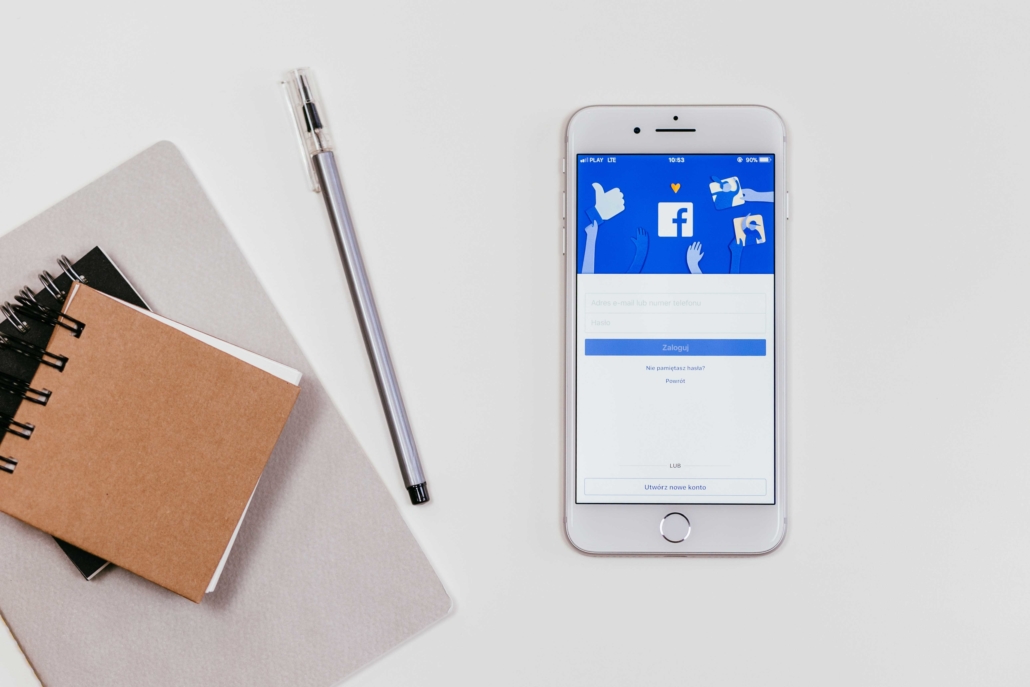 By now, you know that you can use Facebook's free tool to preview your links to see how many likes, shares, and comments they've garnered previously. This article is will help you learn about how powerful link posts are and what you should focus on to optimize them. Read on for 5 things you need to know about Facebook Link Posts.
1. How Effective Facebook Link Posts Are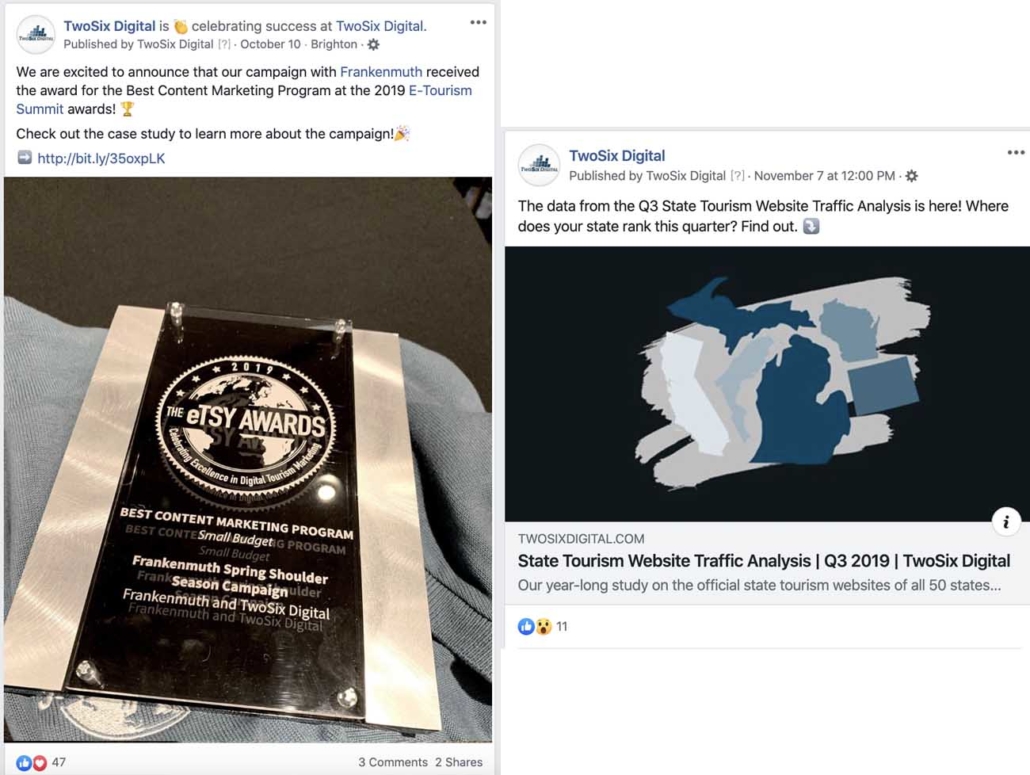 As digital marketers, when posting to social media, our primary objective is to drive traffic to a website. Often, you'll have the choice between use a photo post (see left post above) or a link post (see right). In this example, the photo post happened to reach about 4.25x more people than the link post, and received about 15x more comments, likes, and shares. However, the link post still garnered 36% more clicks to our website.
While the aforementioned example was random, in one of most recent audits, we looked at 147 posts with links in the past 180 days from October. Here are the results:
| | | |
| --- | --- | --- |
| Posts | Click-Through Rate | Shares, Likes, and Comments |
| 43 Photo Posts | .66% | 34.38 |
| 111 Link Posts | 2.41% | 94.32 |
| Difference | 365.15% | 274.35% |
Link-style posts are a fantastic way to get more users to your website.
---
2. What's Most Important in Facebook Link Posts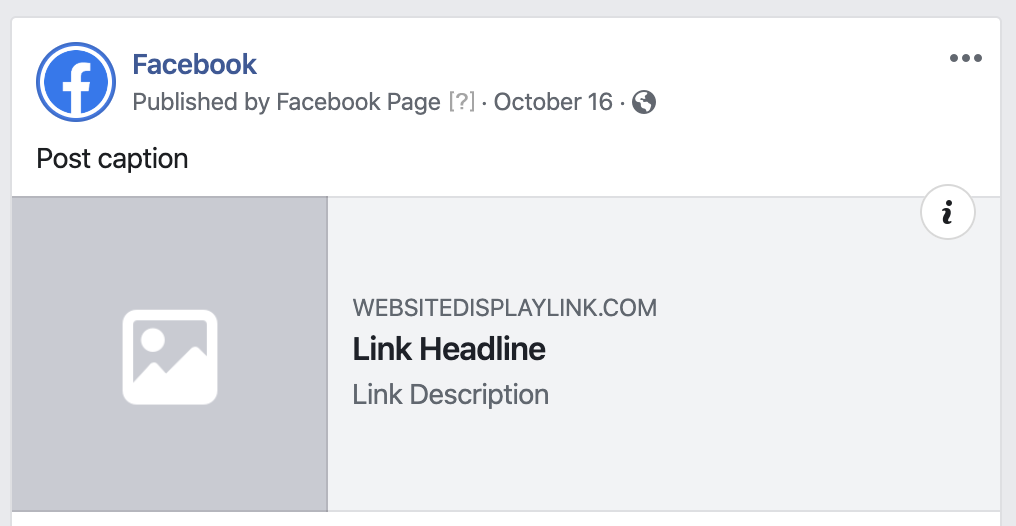 In order of importance when it comes to Facebook link posts:
Image
Link Headline
Post Caption
Link description
Website Display Link
The image will grab their attention and the headline will get them interested in clicking, while the link description and caption will provide them with more information. The display link really comes into play only if it doesn't jive with the rest of the post. For example, if you're talking about surfing, you don't want your display link to end with "/skiing".
---
3. You Need a Good Image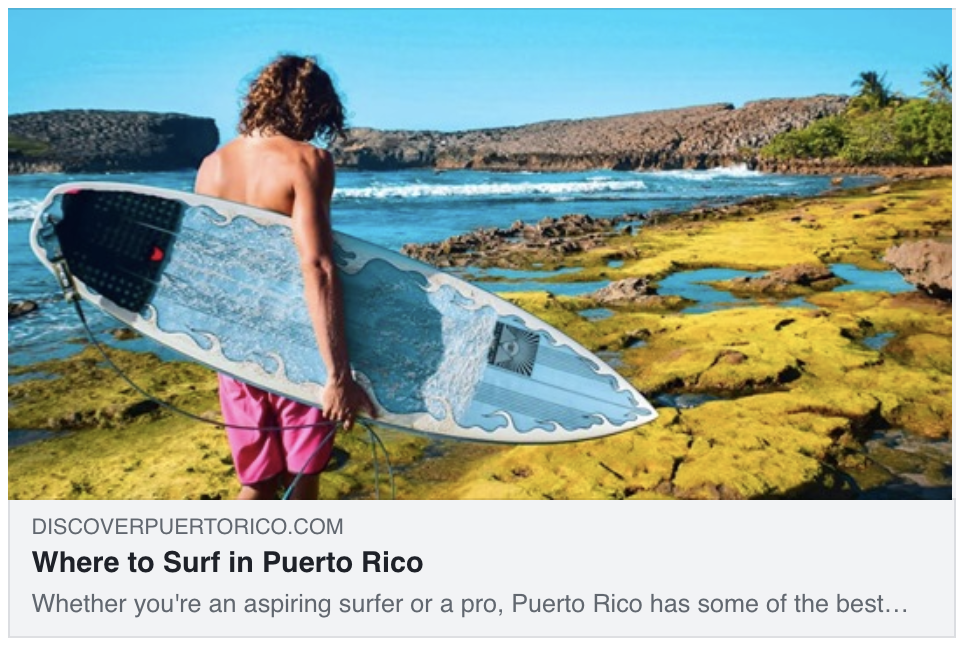 All too often, we see link posts that have very small pictures or without any pictures at all (see an example with both above). The majority of users will scroll right past a link post without a thumbnail. Consequently, the most significant aspect of a link-style posts is its picture – it's even more important than your caption.
You'll want to ensure it should displays well and is relevant to the topic of the link in order to get the best results. Check out the bright, vibrant colors and contrast in the photo above. Use them to catch users' attention and draw their gaze to your headline!
---
4. Headlines Are What Make People Click

Let's be fair, you either clicked that link or really wanted to. The headline is what makes or breaks a link post. Located right under the link post's picture, it's big and bold, and where users look once the image grabs their attention.
People click links because their curiosity is piqued. This should be your goal when crafting link headlines. Avoid broad, general copy and stick to interesting and specific wording.
---
5. Don't Prioritize Post Captions and Link Descriptions
Captions add context to the link preview, and aren't the primary way users are drawn in. It can tip the scales, but it won't grab attention. In a world were the average mobile user spends 1.7s on each Facebook post, most simply won't take the time to read your caption after seeing the headline.
In terms of captions, we recommend making them as short & sweet as possible, as only the first 3 lines will appear before "See More" cuts the rest off. Try using emojis to convey the main theme of the landing page or mentioning 1 or 2 your favorite parts of link.
Link descriptions rarely appear on mobile unless the link's headline is very short. As 96% of Facebook users accessed the site on mobile as of January 2019, you don't really need to spend too much time on this aspect. If it does appear, use it to provide more information.
---
Wondering how to change your link preview? The short answer is that it can only be done by editing the landing page on your website. Check out our blog on what Facebook knows about your links to learn more. Feel free to reach out to us if you have any questions on social media marketing or any other topic, and subscribe to our newsletter to get more helpful tips!
https://twosixdigital.com/wp-content/uploads/2019/11/4ThingsFacebookLinks-scaled.jpg
1707
2560
2sixdigitaltwo6
https://twosixdigital.com/wp-content/uploads/2019/01/TwoSixDigital_logo_Stacked_RGB-300x142-300x142.jpg
2sixdigitaltwo6
2019-11-21 13:30:33
2020-09-21 14:12:44
5 Things You Need to Know About Facebook Link Posts