---
Partners are a large part of destination functionality, as they help build the destination experience. As a destination marketing organization, it's important to provide informative, accessible and detailed partner pages on your website. This will not only help your consumer feel well-informed before they arrive but also during their visit when they're looking for ways to experience your area. Here are the basic elements to help you create an effective digital tool for your visitors:
---
1. Basic Information
Start it off simple by including all necessary, basic information that will aid visitors in learning about the partner:
Name
Address – be sure to include cities if you work with several different cities as one organization
Phone Number
Hours
The partner's website
The partner's social media accounts
---
2. About Section / Summary
Be sure to include a small summary of what type of attraction, hotel, restaurant it is. For example: is it a 'family friendly' or an adult bar-style type of restaurant? These small details will help your visitors learn about the partner without having to leave your site! Here are some examples of what to include in your summary:
Hotel Amenities
Type of cuisine
Type of environment
Ticket cost or entrance fee
Special dietary options on the menu
---
3. Maps and Directions
Knowing where to go and how to get there is key for visitors. By putting a clickable map on each partner page along and/or a "Get Directions" function that goes to a mapping website, you will give them the easiest access to your partners. Is the place hard to find? Is parking difficult? Including these helpful pieces of information in the partner listing will help your visitors find their way!
---
4. Media
Include high-quality images of the product in the partner listing. For example:
Hotels: Include images of rooms, the lobby, any accommodations or special amenities
Restaurants: Include images of top food items, drinks and overall aesthetic
Attraction: Include images of key elements of the attraction and any amenities
---
5. Related Content
Integrate any related blog content on the partner pages. This could include things like "Top 10 Places to Eat in Grand Rapids" on your restaurant pages or popular trip itineraries like "48 hours in Dallas" on attraction or hotel pages. This is a great way to get more traffic on your blog posts and to continue to give your visitors more tools to improve their visit!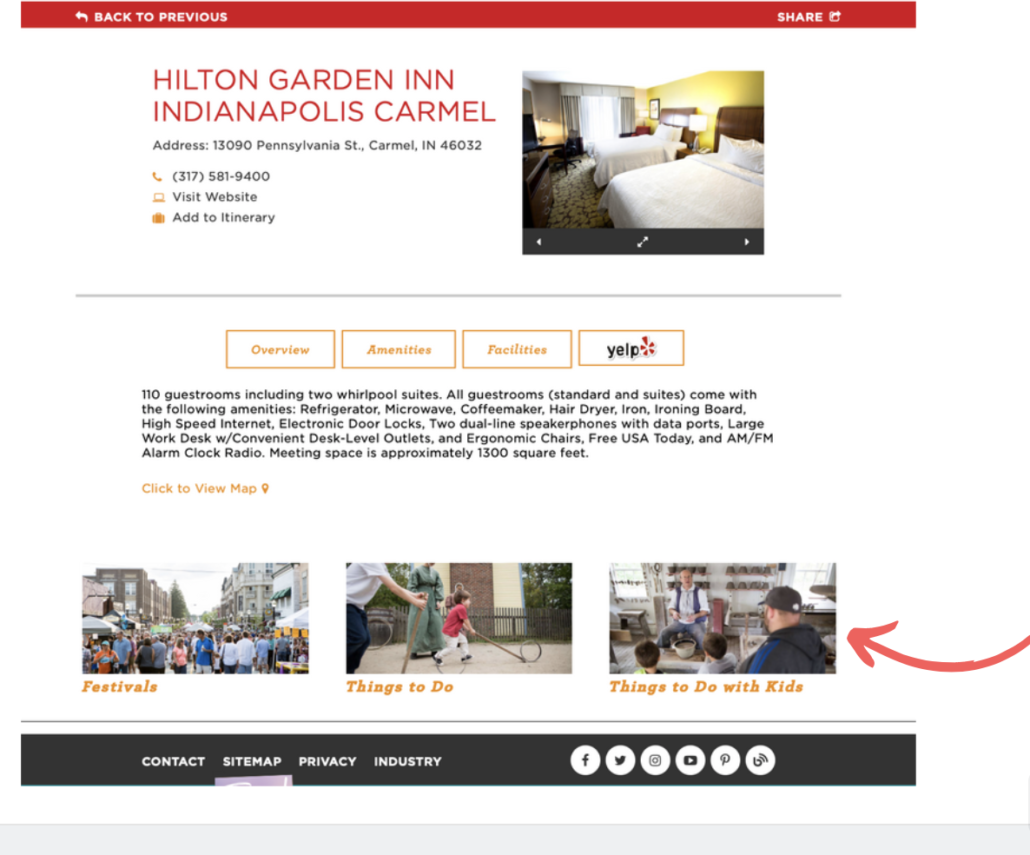 ---
6. Reviews
Integrating reviews is a great way to keep a user on your website rather than heading to TripAdvisor or Yelp. Plus, it will help them better make the decision on where they want to eat, play or stay without having to leave your site. Check out this examples:
---
7. Your Visitor's Guide, E-newsletter & Social Profiles
Finally, it's essential to make sure to add important consumer content like your social media profiles, a link to subscribe to your e-newsletter and a link to download your destination guide somewhere on every partner page, such as in your footer. Including these on your partner page is a great way to give your visitors every possible resource to keep them informed.
---
Effective partner pages are important destination-drivers, as they help build accessibility for your visitors. When you are putting together a partner page, always remember that your end goal should be to create an optimal digital space for your visitors to easily navigate and learn more about your partners.

For more ways to stay up-to-date on the latest digital marketing & tourism trends, be sure to follow us across social media and subscribe to our newsletter.
https://twosixdigital.com/wp-content/uploads/2019/04/pablo-50.png
1024
1024
2sixdigitaltwo6
https://twosixdigital.com/wp-content/uploads/2019/01/TwoSixDigital_logo_Stacked_RGB-300x142-300x142.jpg
2sixdigitaltwo6
2019-04-18 09:34:46
2019-04-18 09:34:48
How to Create an Effective Partner Listing