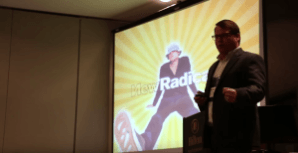 Twitter & Periscope Strategies for Content Marketing Success (VIDEO)
By Brian V. Matson, TwoSix Digital Senior Director of Strategy and Education
I recently had the opportunity to make my first trip to San Francisco, CA to attend and be a presenter at E-Tourism Summit. It was a fast paced few days with a talented group of destination marketers.
I've heard about this event for several years but have never had the chance to attend. My luck changed when I was asked to present at the Summit. Event organizers asked me to present my thoughts on Twitter and Periscope…in 15 minutes. 15 minutes!? I'm used to doing half day workshops! Needless to say the short timeframe provided the perfect opportunity to deliver a quick, informative (and somewhat brutally honest) take on the two social channels.
When it came to Twitter I stressed how important it is to get back to basics and to use the network to give content more opportunities to succeed.
Listening VS Engagement – Of course a huge part of Twitter is listening but when's the last time you went and started a conversation? Get off your heels and be more proactive. Too much waiting around happening.
Be Human – We've been chanting this "be human" thing for years but it's still something that users need to be reminded of. Put the robot voice down and be an approachable human being.
Recycle – DMOs have boat loads of content that is far too often  seen as a one hit wonder. Develop sharing schedules to get content pieces out into the world again.

The main takeaway that jumpstarted a bit of a larger conversation came in extending the stories being told on Twitter. Instead of telling the same stories or sharing the same pieces of content from network to network we talked a bit about how we could extend the story with different perspectives, additional content and more integrated layers to extend the discovery process.
Attendees were mostly interested in Periscope and my handful of tips seemed to be well-timed as attendees were starting to give the application a go.
Go horizontal – Periscope opened up horizontal video! This is actually huge as the broadcasts are actually usable in other channels now.
Engage with audiences – Get some help monitoring and recognizing commenters. A second pair of hands can go a long way.
Developing a regular schedule – By all means experiment with Periscope, but success comes when it finds a regular home in your content planning process.
Using WiFi Networks – Save your data plan and find strong WiFi networks. The app can eat a data plan like nobody's business.

The biggest point that really got people thinking in terms of broader content marketing opportunities was within the simple flip of a switch in the settings of the Periscope application. The saving of broadcasts lead to a great discussion about distributing Periscope content within your greater content strategy.
There currently aren't a lot of DMOs that are leveraging this tool but those that are doing experimenting are doing some great things. St. Pete/Clearwater is broadcasting sunrises, seal rescues and other various events. Leroy Bridges presented an additional session with Periscope examples at the summit that is worth checking out. Periscope and live streaming applications in general certainly were getting a lot of notice at E-Tourism Summit.
I was happy to see that the session got a solid response from those in attendance. It was voted the best session of the summit which considering the massive amount of content and speakers at the event was a real surprise. I had a great time in San Francisco and look forward to another E-Tourism Summit in 2016.
In case you missed the session you can check it out below!
You can download a copy of the presentation slides here.
https://twosixdigital.com/wp-content/uploads/2015/12/brianets15-300x154.png
153
298
2sixdigitaltwo6
https://twosixdigital.com/wp-content/uploads/2019/01/TwoSixDigital_logo_Stacked_RGB-300x142-300x142.jpg
2sixdigitaltwo6
2015-12-11 09:38:28
2016-12-13 11:12:43
Twitter & Periscope Strategies for Content Marketing Success (VIDEO)